HongEr GLK3 coil handling equipment is the 3 in 1 combined decoiler straightener feeder. This combined decoiler straightener feeder is suitable for coil thickness 0.5mm-4.5mm, coil width from 70mm to 1300mm, coil weight up to 10Tons. The decoiler straightener feeder with press machine is mainly used in metal stamping line to produce pressing parts for construction components, home appliance components, antomotive components, etc.
GLK3 (0.5-4.5mm) Coil Feeding Euipment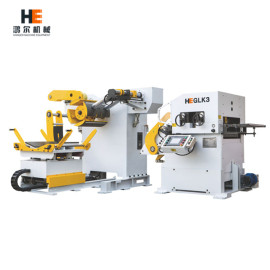 Min. Order: 1 piece
GLK3 series is HongEr compact feeding line which suitable for coil thickness from 0.4mm to 4.5mm.